OFFICIAL HONOR
Award – Karin Maier was awarded the 2020 EARTH AMBASSADOR AWARD for holistic life counseling.
EARTH AMBASSADOR AWARD 2020
DUBAI | United Arab Emirates, 20. January 2020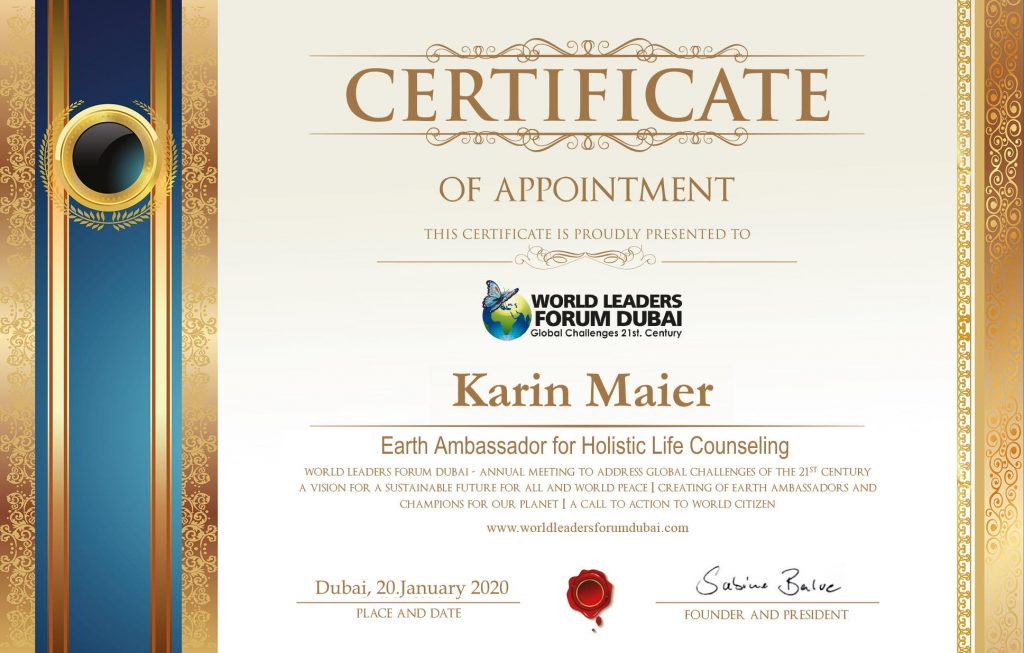 EARTH AMBASSADOR AWARD – CERTIFICAT FOR KARIN MAIERS ACHIEVEMENTS
World Leaders Forum Dubai (WLFD) is a leading independent global initiative for international exchange and inclusive collaboration to promote business development and social community solutions with a focus on building a sustainable world in peace.
Miss Karin Maier is a member of the GLOBAL CITIZEN CLUB of the WORLD LEADERS FORUM DUBAI, which is published and promoted by the United Nation, World Urban Campaign during the UN-HABITAT-3 conference on 193 UN member countries as the GLOBAL CITIZEN CLUB (THINK & DO TANK ONLINE) CREATIVE NEW SOLUTIONS FOR SUSTAINABLE URBAN PLANS 2050 | City We Need 2050
Karin Maier was awarded the EARTH AMBASSADOR AWARD 2020 for successful holistic life counseling and the Advanced Practice Development Award for holistic inclusive life counseling.
Karin Maier demonstrated outstanding quality in life counseling using holistic means as a certified energy environment consultant and therapist based on yoga solan science.
EARTH AMBASSADOR AWARD – CERTIFICAT
Our conclusion about the Earth Ambassador Award 2020 …
We support all 17 sustainable development goals (SDGs) to transform our world with a focus on: 
GOAL 3: Good Health and Well-being

GOAL 4: Quality Education

GOAL 6: Clean Water and Sanitation

GOAL 7: Affordable and Clean Energy

GOAL 8: Decent Work and Economic Growth

GOAL 9: Industry, Innovation and Infrastructure

GOAL 10: Reduced Inequality

GOAL 11: Sustainable Cities and Communities

GOAL 12: Responsible Consumption and Production


GOAL 14: Life Below Water


GOAL 16: Peace and Justice Strong Institutions


GOAL 17: Partnerships to Achieve the Goal

Would you like to know more? Join & Ask us!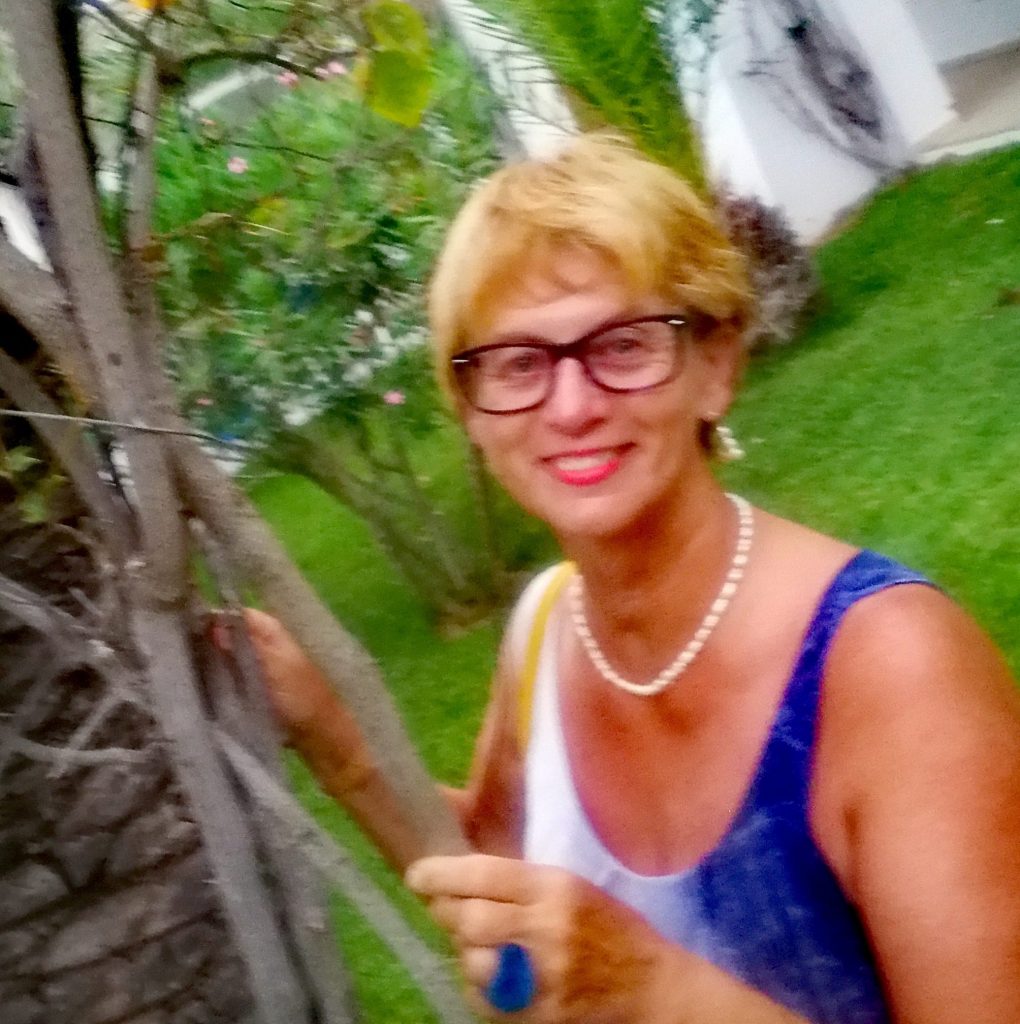 Karin Maier | EARTH AMBASSADOR AWARD | For holistic life counseling |
Awarded by World Leaders Forum Dubai 
TESTIMONIAL
"Karin Maier is a great, experienced and patient person who helped me to master a critical life situation. THANK YOU VERY MUCH."
"Ms Maier quickly discovered the reasons for "chaos" in my private office and in financial matters. Professionally she reorganized the processes in the office. Now everything is running again. Thank you very much!"
"Your empathetic nature has immediately developed a very positive familiarity. They quickly recognized my problem and immediately helped me with unconventional ways."
CONSULTING HOURS
| | |
| --- | --- |
| Monday – Friday | 8:00 – 5:00 |
| Saturday | 9:00 – 5:00 |
| Sunday | 11:00-4:00 |
   +49 (0) 173 8456112
OFFICE LOCATION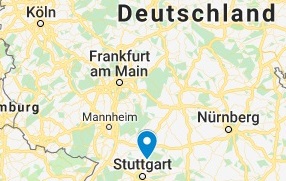 OUR VALUES